I'm Parke. I'm a therapist that works mainly with stressed and anxious guys. On the personal side, I have a lot of different interests including sports (particularly Baltimore Orioles baseball), history, being outside and Eastern Philosophy. I'm a big music fan and like John Prine, The Stanley Brothers and the Grateful Dead in particular. My favorite book is An Island to Oneself and my favorite movie is Castaway. My wife sometimes finds it worrisome that the theme of both of those is being on an island by yourself. Despite that, I am happily married with two young kids, a boxer named Poppy and a morbidly obese (we're working on it) cat named Wilson. If anyone is wondering, because I know I sometimes do, I'm 39 years old.
I took a bit of a different path to becoming a therapist. Out of college, I started out in the corporate world working in sales. It took a little while, but I realized I didn't really like selling people things they didn't particularly need. During this time, I started having my own struggles with social anxiety and work stress. Looking for solutions, I began spending less time in the bar scene and got into things like non-duality, meditation, exercise, breathing and psychology to try to find relief.
Fast forward to today and I'm actually oddly grateful for my own struggles and my former life in corporate America. I think those experiences help me offer something a little different in the therapy world as I possess a unique perspective on the struggles of men who are experiencing anxiety, stress or general life dissatisfaction because I have been there! I am still there sometimes, but over time, I have created my own playbook for navigating these struggles and that's exactly what I can help you do.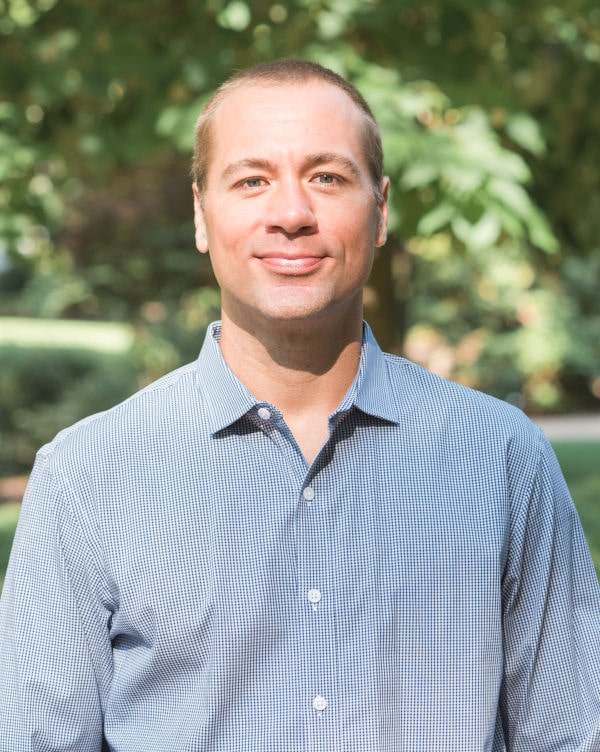 My Therapy Approach for Anxiety, Stress and More
A big thing that I have discovered is that if you suffer from anxiety,  it's usually a chronic condition. You can't deep breathe it away, healthy eat it away or exercise it away. Don't get me wrong, that stuff helps a lot, but there has to be a shift in addition to lifestyle changes. That shift is learning how to relate to our pain differently and not run from it, thus letting it dictate our choices in life. I use a combination of lifestyle changes and an approach called Acceptance and Commitment Therapy (ACT) to help clients have the serenity to accept the things that they cannot change, the courage to change the things that they can and the wisdom to know the difference. 
Using ACT, we will do some talking, but it is more aptly described as "do" therapy. As the old proverb goes in order to change your life, you have to start changing your life. It's important to remember that I can't make the changes for you. You have to make those changes but to borrow a boxing analogy, I will be like your corner man helping you create, implement and tweak your own personal game plan so that you can find relief from suffering and enjoy life again.
ACT is a transdiagnostic therapeutic approach, which is just a fancy word for "it can work with anything." In the past, I have worked with people from pretty much all walks of life with all types of struggles. Nowadays, I mostly work with guys, anywhere from high schoolers up to guys in their 50's, who are struggling with stress, anxiety and general life dissatisfaction. Social anxiety is a struggle that is near and dear to my heart and I enjoy working with anyone who has the courage to ask for help with that. 
Clients have described my approach to therapy as laid back, transparent and invested in that when I work with someone, I naturally get excited when they are making changes because I feel as though "we are in this together."
I'm a Licensed Professional Counselor (LPC) in Richmond, VA
With regards to education, I attended Randolph-Macon College in Ashland where I majored in Sociology. I then received my Masters of Mental Health & Rehab Counseling from Virginia Commonwealth University. I'm constantly reading and taking new trainings as I really love this field. And I am thankfully a much better therapist than I was a salesman!